Capital Dubai Mall l Dubai Developments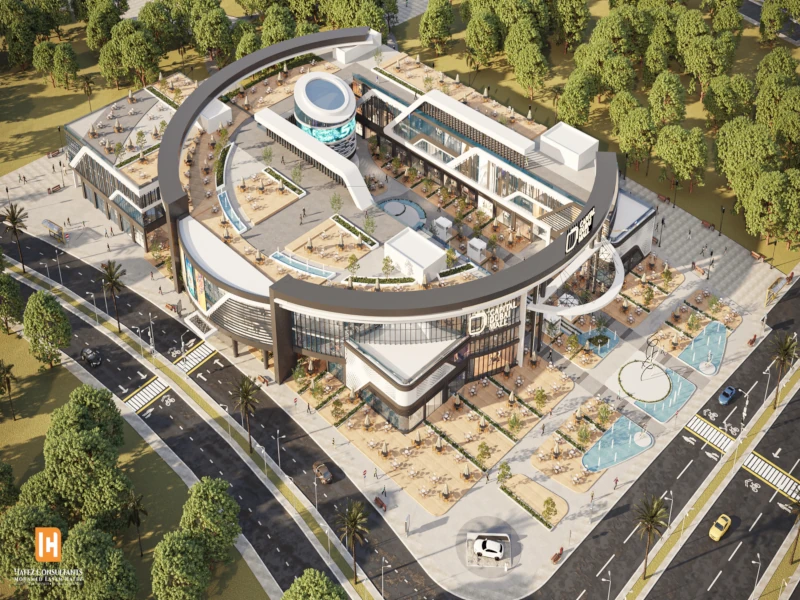 Capital Dubai Mall l Dubai Developments
All you need to know about Dubai developments:
Capital Dubai Mall New Capital, one of Dubai's projects in the new administrative capital, and the company chose its location very carefully in the seventh district area R7.
Dubai Developments and Real Estate Investment Dubai Developments is one of the oldest and most prestigious real estate investment and development companies that you can deal with.
With 25 years of experience in the industry, Dubai is a top real estate developer. Because of its innovative projects both within and outside of Egypt, Dubai Company has been able to stand out from other developers over the past few years. Due to the most up-to-date methods and designs used in its projects, this allowed it to compete on a global scale. Additionally, it strives to always include comfort, sophistication, and elegance in its projects for clients.
Back in 1997 the CEO of the company Eng. Abdelfattah Elmor has found the idea of real estate developments in Damietta by creating new-complete civilized communities. They have finished more than 140 projects until established the idea of organizing and developments. Dubai Developments is one of the companies that got the largest projects in the New Capital, so we were able to have one of the better locations around the New Capital.
The company pervious projects:
More than 140 residential tower in Mansoura, and Damietta
Obsidier Mall in new capital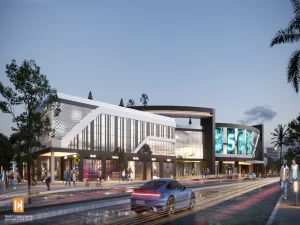 The location of Capital Dubai mall:
The location of Capital Dubai Mall in the administrative capital is strategic, as it is located in the seventh residential district R7, which includes the finest compounds. It also has all the services that meet the needs of customers, as it serves 42 residential projects and more, and it is considered one of the first stages of the capital, so the government worked to develop it until it is delivered As soon as possible
Some of the places near to the project are the following:
Dubai Capital Mall is located only few meters from the Green River
Also located in the service area of the R7, which contains 3 schools, Coventry University and Swedish university, a hospital, Mazloum Mall and El Sallab Mall.
Space area of the Capital Dubai Mall New Capital :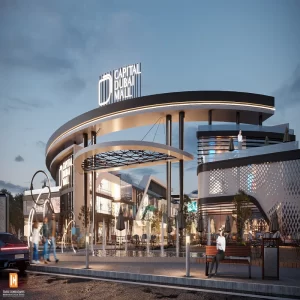 The project was built on an area of about 14,3000 square meters, which is equivalent to 4 and a half acres, and the Dubai development company chose this space specifically to establish all the services of the project, and the mall consists of three floors distributed between shops, cafes, restaurants and entertainment places .
Know More About : the best compound in new capital 
Unit types inside:
Retail units like gym – Beauty Center – Food court ( 14 Restaurants ) –  Hyper market – Kids Area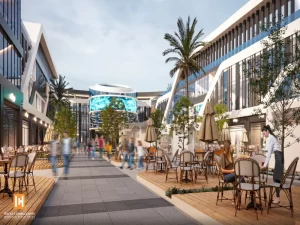 Capital Dubai Mall Facilities:
An area of ​​20,000 square meters was provided for the garages area ( 2 Underground parking )
Two entrances for the mall
Providing a number of bathrooms in each floor.
The Food Court area has a variety of restaurants.
Security and guarding person with a twenty-four hour surveillance camera system, to monitor the mall from the inside and outside.
Escalators to ensure ease of movement for visitors in the mall.
A number of elevators in each floor to ensure that visitors are not overcrowded and for easy transition between floors.
The Capital Dubai Mall New Capital has a sufficient number of generators, which operate automatically in the event of a power outage.
A highly sophisticated working fire alarm system.
All the units has a view
Mega Sky Plaza (3000m)
Water Features
8 Elevators
Engineering Consultant:
* Eng. Mohamed Hafez*
One of the largest engineering consultants –
Among his works are (Trivium – Agora – The Market – and the Commercial Area in New Alamein City)
Management and Operation Company:
*Mission 235*
 A Lebanese company whose main business is (Mall of Qatar – Carrefour Kuwait – some malls of Talaat Mustafa Group – San Stefano – Maxim Mall)
Starting area and price:
200 units have been provided in the Capital Dubai Mall New Capital project
The ground floor starting areas from 40 meter to 138 meter with price starts from 90,000 per meter
The units on the first floor with areas ranging from 26 meters to 109 meters – starting price: 90,000 per meter
The spaces of the units on the second floor start from 26m to 167 meter – Price: 50,000 per meter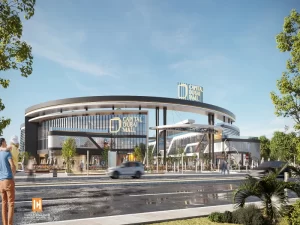 Delivery date:
The delivery date for the project will be in 5/2023
For reservations You can inquire and communicate with dubai capital sales team by calling 01200027090 Or via WhatsApp