Creek District Mall l IL Cazar Developments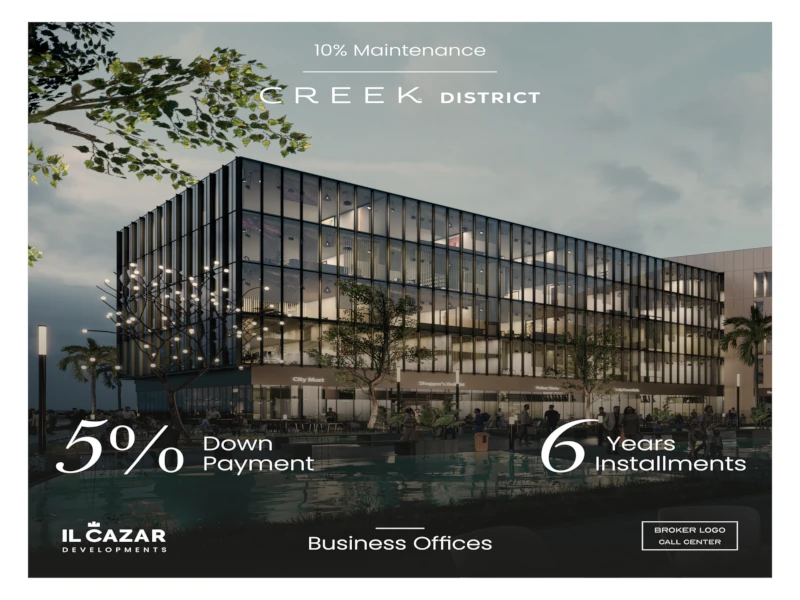 Creek District Mall l IL Cazar Developments
IL Cazar announced the launch of the CREEK DISTRICT Mall project, with a facade of 1 km on the New Suez Road, New Cairo City. It is a mixed-use project that includes units of various activities with multiple spaces that meet the requirements of target customers.
IL CAZAR DEVELOPMENTS:
Creek District Mall by IL CAZAR Developments, a name inspired by the great Caesar, which reflects a bolder and more challenging leap and projects of a global nature according to international standards, and IL CAZAR is a renaming of the Joe Khuzam brand of the Khuzam Development Group – Khozam Development, which was established in 1960, with more than 60 years of experience in the field of real estate,
And the Khozam Group decided to expand its real estate activity and meet the huge market demand for real estate in the first place and develop residential and commercial projects with high quality and luxurious living for the needs of our customers. Also the goal of the company is to become the leading real estate developer in Egypt, in addition to facing the biggest challenges, opening new markets, and developing competitive products, and this can only be done with highly skilled and experienced employees.
As this company was the first choice for many investors because of its attractive advantages for businessmen and providing all possible amenities for its customers.
And the meaning of Alcazar is Caesar, as the company aspires to leave an immortal imprint in the Egyptian real estate market, through its projects that are rich in definition in terms of its magnificence, and that it wants to be the number one company in Egypt.
Compound Go Heliopolis Nasr City.
Nord Resort new alamein city – North Coast
Creek Park Compound, 6th of October.
Creek District Mall New Cairo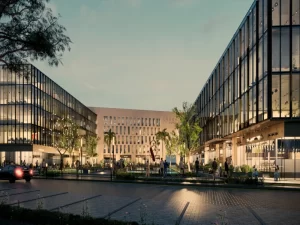 Location of Creek District Strip Mall:
A privileged location chosen for the project, with a 1-kilometer frontage on the Suez Road, in the heart of New Cairo, and its location has the following advantages:
The distance between it and the New Administrative Capital is only 15 minutes.
It can be reached from Cairo Airport in just 6 minutes.
Close to large vital areas, especially Maadi, Nasr City and Heliopolis.
Space area of the project:
Strip Mall is a large multi-use mall that extends over a large area.
The famous engineer Yasser El-Beltagy took charge of the architectural designs of the mall, and it includes administrative, commercial, and medical units of various sizes and elegant designs.
Unit Types:
Commercial
Administrative offices
Clinics
The project also includes separate buildings with areas
Facilities of Creek District Mall:
The Strip mall is ground and 3 floors
50,000 sqm (surface parking areas)
Rooftop areas
Modern elevators
Fire Fighting System
Alarm System
Green spaces and distinctive landscapes for all units.
Advanced surveillance systems, security gates, and 24-hour guarding all over the mall
Advanced firefighting systems.
Bank branches and ATM's
Retail stores that offer the most famous international brands.
Restaurants and cafes affiliated with international brands.
Children's entertainment areas.
Maintenance and cleaning services.
Bathrooms with elegant designs.
Fast internet service
Space area and prices:
Administrative
Starting area from 55 square meter with Starting price is: 65,000 per meter
Medical
Medical unit starts from 55 meter and its price per meter will be: 70,000
5% down payment and up to 6-years installment plan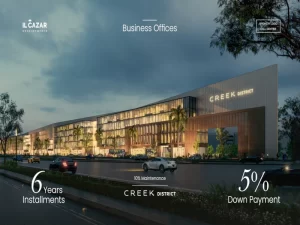 Delivery Date:
Delivery after 3 years
Know More Details about  Creek District Mall prices click here through whatsup or call us 01200027090