G Bay Elsokhna l United for Real estate developments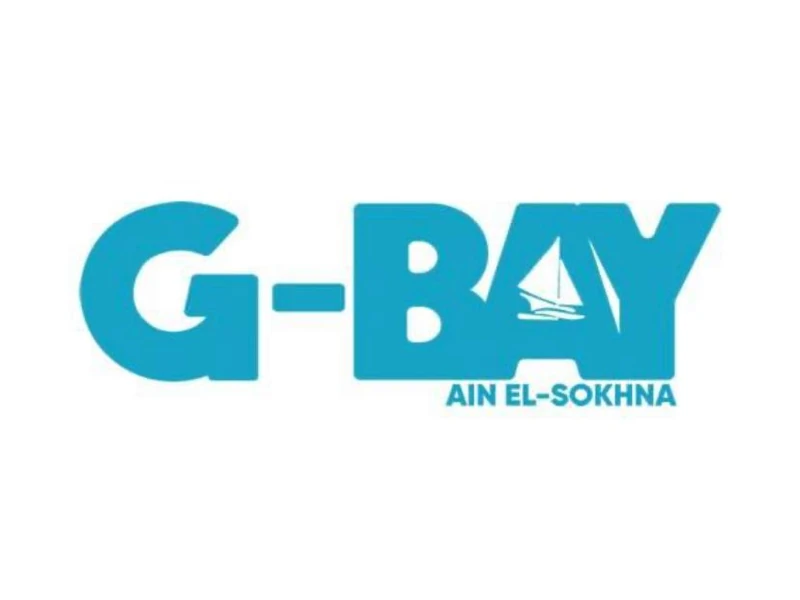 G Bay Elsokhna l United for Real estate developments
Brief about United developments:
United Company is the owner of the G-bay ElSokhna project and it is an Egyptian joint stock company specialized in real estate development, where the company has developed and implemented many huge projects in New Cairo and the Fifth Settlement in the best and most distinguished locations in New Cairo
United Real Estate Development is one of many businesses created in 1992 by Eng. Mohamed Hafez Alzaabalawy, and united developemnt regarded as one of the premier real estate development enterprises in the Middle East. The company has more than 30 years' worth of real estate industry success tales.
Four specialized businesses that were founded in 1986 Waad International Tourism, Mahi Tours in the United Arab Emirates, Net Net, and United Real Estate Development as a consultant firm with a focus on the commercial and engineering sectors come after it.
United for Real Estate Developments has considered the location of each individual residential building with its modern and exquisite style to generate a diversity of alternatives while offering a distinctive experience for our inhabitants for each client and the company approach was to building a new embrace of all practices from vision to design, construction, finishing, and maintenance which has allowed the company to continually deliver the highest standards to our client. And we have successfully delivered on schedule several individual residential buildings throughout the past 8 Years.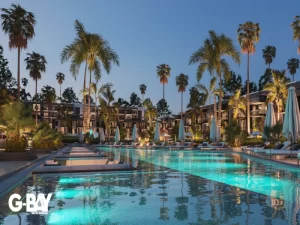 We can mention the most prominent projects of United Company in brief points as follows:-
G3 Mall New Capital City
More than 20 residential buildings in New Cairo
15 residential towers in the city of Mahalla al-Kubra
3 real estate projects south of the academy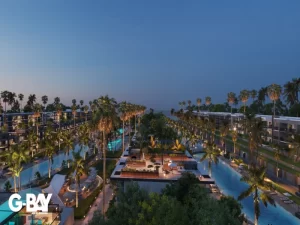 One hour away from Cairo, as united for real estate development chose a prime location for G-BAY with care and extensive research to present its first project in Ain El- Sokhna on the red sea specifically at kilo 164.
180 kilometers from Cairo
400 kilometers from Alexandria
The resort located between La vista 4 and La vista 5
100 kilometers from Suez
260 kilometers from Hurghada and 140 kilometers from New Capital city
To Contact sales team of G-Bay  Elsokhna village  : 01200027090
The Resort space area:
Total space of ​​G Bay is about 27 acres, the largest space was allocated to green spaces and colorful flowers that add more beauty to G Bay Resort
Chalets designs in G-bay Elsokhna:
Chalets at G-bay is designed accordingly to reflect modern sophistication and tranquility. Delivering with a full sea view panoramic Terrance, with an open landscape with all nearby amenities while every detail is thought out carefully between indoor comfort and outdoor serenity.
It consist of 828 APARTMENTS
G Bay  considered most serene of all projects with a 360 degrees Sea view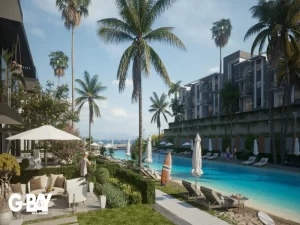 G-bay Ain Sokhna includes a distinctive Aqua Park to let you and your kids have a great time.
The United project includes 3 swimming pools for adults and children, all overlooking the sea.
They have Heated pool and Lagoons
And G-bay El Sokhna contains an integrated commercial area that includes the most famous brands
The project includes a variety of restaurants and cafes that will satisfy all tastes.
A large Kids Area forchildren, equipped with the latest entertainment and security facilities.
Dedicated walking and cycling paths for added safety for exercisers and pedestrians.
The resort has an Infinity Pool set around a health club and café.
Vast green spaces and artificial lakes provide the best view for everyone in the resort.
G Bay El Sokhna Village has a private beach and a sandy beach.
Underground garage for all units
Starting area and price:    ( FULLY FINISHED )
Starting area is 72,5 meter with price starts from 1,462,000
There is a different areas starts from 90m up to 108 meter – starting price from: 1,566,900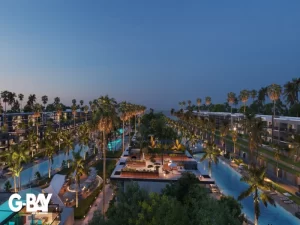 Area from 100m to 150 meter and its starting price is : 2,326,000
Payment plan for G-bay:
10% down payment and after 2 years another 5% – the rest installments over 10 years
Down payment 5% with the rest over 9 years equal installments
Delivery date units in g bay resort :
After 3 years and a half
in conclusion To Know More Details About  G Bay Ain Sokhna Prices via whatsup click here and also you can call us 01200027090