Overview
Belle Vie Emaar Misr
Emaar Miar built the Belle Vie Emaar compound in Sheikh Zayed, with luxurious European-style designs that have a distinctive splendor to guarantee its residents distinction and sophistication.
Also, Emaar Misr always strives to develop communities and redefine living standards with international quality, and puts your needs and aspirations in the first place, and the company's choice of a project site is, in fact, very successful.
All the information you need to know about Emaar Misr:
Emaar Misr is the company that owns the project, and Emaar Misr celebrates more than 15 years of completing large projects. Its projects are distinguished by its distinguished gated communities across the finest and most beautiful destinations in Egypt.
Emaar Development Company, founded in 1997, has quickly become a leader in the design and construction of integrated housing units in many Arab and foreign countries. Such as the Emirates, Saudi Arabia, Turkey, the United States and Egypt.
Also Emaar has diversified its interests in the real estate sector, including the construction of commercial and residential properties, as well as shopping centers and hospitality, establishing itself as one of the leading real estate developers in the United Arab Emirates.
Who is the owner of Emaar Misr?
Emaar was founded by Emirati businessman Mohammed bin Ali Alabbar, who is the founder of the company in the Arab Emirates.
Previous projects:
Marassi North Coast
Cairo Gate October City
Uptown Cairo
Soul North coast
Belle Vie Emaar Misr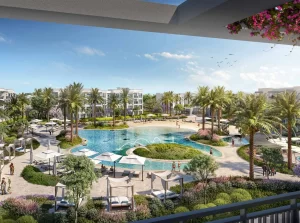 Location of Belle Vie:
You now have the opportunity to live in one of the most vital areas in Sheikh Zayed, where Bell is located on the Dabaa axis, 30 minutes from the desert road, and connects its residents with many important and strategic roads.
Belle Vie Compound connects Waslet Dahshur with El Dabaa and Desert Road.
Desert Road is only 20 minutes away from the Bell Compound site in Emaar.
Belle Vie Emaar is about 1.5 km from Beverly Hills.
Area of the compound:
Emaar Misr built Belle vie compound Sheikh Zayed on an area of 500 acres, that large area only to guarantee the residents freedom and luxury while providing safety, and Belle offers a distinguished package of spaces to ensure choosing the space that each customer wants.
Read About : O West Compound October Prices
Unit types: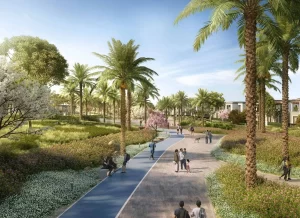 Townhouse
Standalone Villas
Facilities and amenities in Belle vie compound:
The compound contains many picturesque gardens dotted with artificial water fountains to finally reflect a view of the highest beauty.
Open spaces for picnicking or enjoying bike rides.
Shops and administrative offices within Belle V in order to provide all purposes and services to the population.
A service area with large cafes and high-end restaurants, in addition to many malls, and it is easy for all residents to reach because it is located directly in front of the towers.
Covered garages for residents to park their cars in.
Swimming pools designed in different sizes to suit all residents.
Periodic maintenance of various units and facilities, as well as cleaning services.
A modernly designed health club, in addition to a Jacuzzi and spa with the latest and most advanced equipment.
Providing some units with swimming pools and private gardens.
Read About : Compound Solana New Zayed Prices
Area and prices of the compound:
Fully finished units
Townhouses:   ( consist of: Ground – First floor )
Areas starts from 206 square meter with price starts from 14,000,000 up to 17,000,000
Standalone Villa:  ( Ground – first floor – roof )
3 to 5 bedrooms area starts from 207 meter up to 335m – price from 19,000,000
Browse Now : Arabia Developments
Delivery date :
After 2 years
Payment plan:
5% Down payment and the rest installment
Know more details about  Emmar Developments   , You can inquire and communicate Whatsapp click here or 01200027090
Features
Barbeque
Clubhouse
Gym
Parking
Sauna
Swimming Pool