The Address East Compound New Cairo
Overview
 The Address East Compound New Cairo
All you need to know about Dorra for real estate:
The Address East Compound New Cairo is one of the most distinguished projects in New Cairo.
The compound also bears wonderful details of the delicate architecture, distinctive and unparalleled designs, and large green spaces to purify the atmosphere and make it more natural, as well as artificial lakes.
The company that owns the project is Dorra Development Company for the real estate development and investment sector, which is characterized by the quality of choosing design and building materials, and its residential projects are characterized by luxury, beauty, tranquility, and privacy. Dorra for real estate development has been established since 1943 and it is one of the most well-known companies in the field of urbanization and real estate development.
Address east New Cairo Compound  implemented by Dorra Real Estate Development Company, as it is one of the companies operating in the private sector in Egypt, as it is a leading company in the field of real estate and has been competing within the real estate market in Egypt for a long time.
Also experience of Dorra Real Estate Development Company extends for more than 70 years in the field of contracting and real estate development, and it also has a very successful and honorable business precedent, as Dorra Real Estate Development Company was established by Eng. best for its customers.
Among the most important projects of Dorra Real Estate Development Company are:
Capital Business Park
Zayed 2000
Elshorouk 2000
El Hosary mosque
As a constrictor: Alamain tower
The Address East Compound New Cairo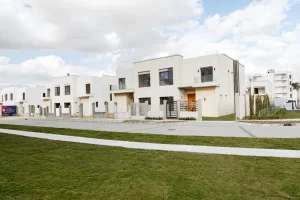 Read about : Greek town Compound
Location of address east new cairo compound:
Address East Compound, Fifth Settlement,  located in a very privileged location, next to all government departments and social services, and its unique location.
Next to the Palm Hills Compound and Mountain View i-City Compound, it  considered one of the most prestigious projects in the Fifth Settlement, which contains apartments for sale and private units that are characterized by wonderful design, relaxation and tranquility.
Located near the Cairo-Suez Desert Road, about 10 minutes away.
Read About : Compound Mivida
Area of the compound:
Dorra Real Estate Company has established The Address Fifth Settlement project in New Cairo on an area of 60 acres, and the buildings include only 20% of the total area, in terms of privacy for the residents.
And to provide a general atmosphere of calm and relaxation, and the rest of the area was built on green spaces, artificial lakes, and recreational and social services.
Unit types inside the address east compound new cairo: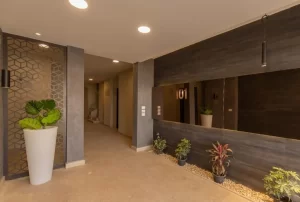 Only Apartments all over the comound
Browse Now : LakeView Residence compound New Cairo
Facilities and Amenities: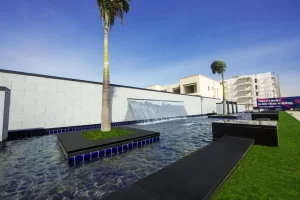 An area of 3,000 square meters has been allocated for the establishment of a large health club
Shops for selling international brands in The Address Compound, Fifth Settlement.
Gym and spa in the Address East Compound, Fifth Settlement
A number of sports clubs that include all international equipment.
Fully equipped social clubs.
Green spaces throughout the project, and aesthetic views.
Tracks for sports and cycling.
Advanced surveillance cameras in Address East Compound, Fifth Settlement
Provided security personnel throughout the day.
Garage designated for cars to avoid crowding.
Various swimming pools.
Children's entertainment area.
Delivery date:
Ready to move or 6 months delivery
Contact wit us More details about  Dorra Developments by calling 01200027090 or click here through whatsup
Features
Barbeque
Clubhouse
Gym
Parking
Sauna