Rosail Mostakbal City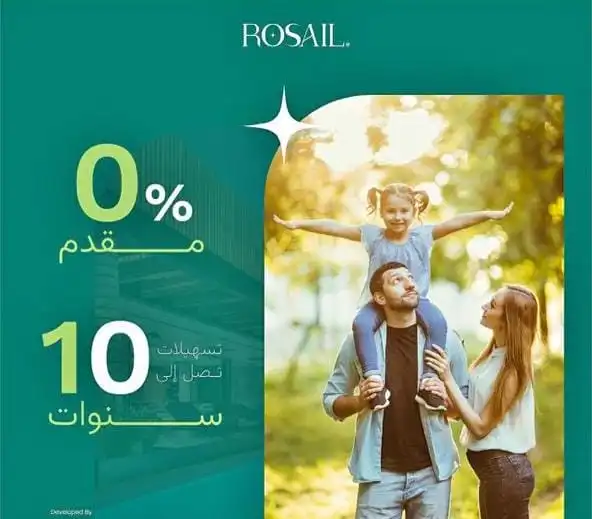 Rosail Mostakbal City
Khaled Sabry Holding Company is offering Compound Rosail City Mostakbal City, with international standards through which it achieves the philosophy of sustainable communities in which residents enjoy continuous happiness, as the housing units vary between apartments and twin house villas, which suit the different needs of the population, and The prices of the Russell City compound are distinct and are paid according to flexible plans in booking and installments.
All the information you need to know about Khaled Sabry Holding:
Khaled Sabry Holding Company for real estate development is one of the leading companies that was able to establish its worth within the Egyptian real estate market quickly, and it was established only 15 years ago, by the Eng. Khaled Sabry to implement many important projects inside Egypt.
Within a short time, Khaled Sabry Holding left its mark inside Egypt, through a wide portfolio of projects in Dahshur, Wadi El-Natrun, 6th of October, Maadi, New Cairo and many areas, and the company seeks to satisfy all customers by providing them with high-quality buildings and homes. Holding aspires to be one of the largest real estate companies in Egypt and the Middle East.
And because of the company's management's keenness to ensure that its customers get the greatest possible value in return for the money they pay, the company bought many of the most exclusive lands in the Fifth Settlement real estate and on the outskirts of the Administrative Capital. These lands are characterized by being very close to important facilities that will make the value of the units on which they will be built constantly high. The fact that the company builds its own projects
Pervious projects:
6 distinct projects in the first district, the fourth tourist area in 6 October City
Projects in Beit watan, New Narges
Rayan Tower New Capital
Ronza Tower new capital city
Rosail Mostakbal City
Rosail Compound Mostakbal City offers an opportunity to prepare for the future through Khaled Sabry Real Estate Development Company, and if you want to buy a new home in one of its latest residential projects, do not hesitate to reserve your unit now, as the project is located in a privileged location within New Cairo.
Location of Rosail Mostkbal City:
The comfort of the residents increased directly with the appropriate location, and Khaled Sabry Holding Company was interested in choosing the strategic location in the Russell City Compound in one of the most attractive areas in New Cairo, specifically in the heart of Mostakbal City in front of Madinaty, so Rosail Compound Mostakbal City, minutes away from famous places Which covers the different needs of the population, and it is easy for them to move with great flexibility.
Rosial City Mostakbal City is located 20 minutes from Cairo Airport.
Also it is 4 minutes away from Al-Fattah Al-Alim Mosque.
You May Want to Know More Details About :  The Vill IL Cazar
Area of the newest compound of Khaled sabry developments:
Khaled Sabry Holding Company in Rosail City Compound, Mostakbal City, offers modern architectural designs that suit the needs of customers at the present time, and it has contracted with the best architectural designer companies to present ideas that keep pace with the current modern spirit and carry the unique European touch, which is reflected in the size of the large green spaces. Compared to the buildings, the design of the Russell Mostakbal City project is as follows:
Russell City Compound extends over an area of 56 acres.
The percentage of green spaces and landscapes reaches 82% of the area, compared to 18% for the residential units.
There are apartments and twin house villas.
The buildings in Compound Rosail City Mostakbal City consist of a ground floor and 5 or 6 floors.
Facilities and amenities
There are landscapes and artificial lakes that give the units unique views.
Also they provides a club house that includes various means of entertainment.
Commercial strip mall of Rosail compound new cairo.
Admin offices.
In addition to you can practice sports in Khaled Sabry's project through gyms and sports clubs that include various games.
Underground parking.
Jogging and cycling tracks.
Security personnel and guards work 24 hours a day.
Installing surveillance cameras in all corners for the safety.
Medical Clinics
Full Details : Bloomfields Mostakbal City 
Stating areas and prices in Rosail Mostkbal City:
Apartment
Area starts from 130m up to 220m – with price starts from 3,120,000
New Proto Type
Start from 220m to 250m and the Start price 5,500,000 to 6,500,000
Twin House
For the twin house area starts from 250m start with price: 9,000,000 to 10,000,000
Townhouse
Start from 215m and the price will be: 6,800,000 to 7,400,000
Learn About : Orla Residence New Cairo
Payment plans:
The payment will be up to 9 years installments.
Full Details : Telal East New Cairo
Contact with us 01200027090 or click here through whatsup to know More Details