Salt North Coast Tatweer Misr l New Sahel Project 2023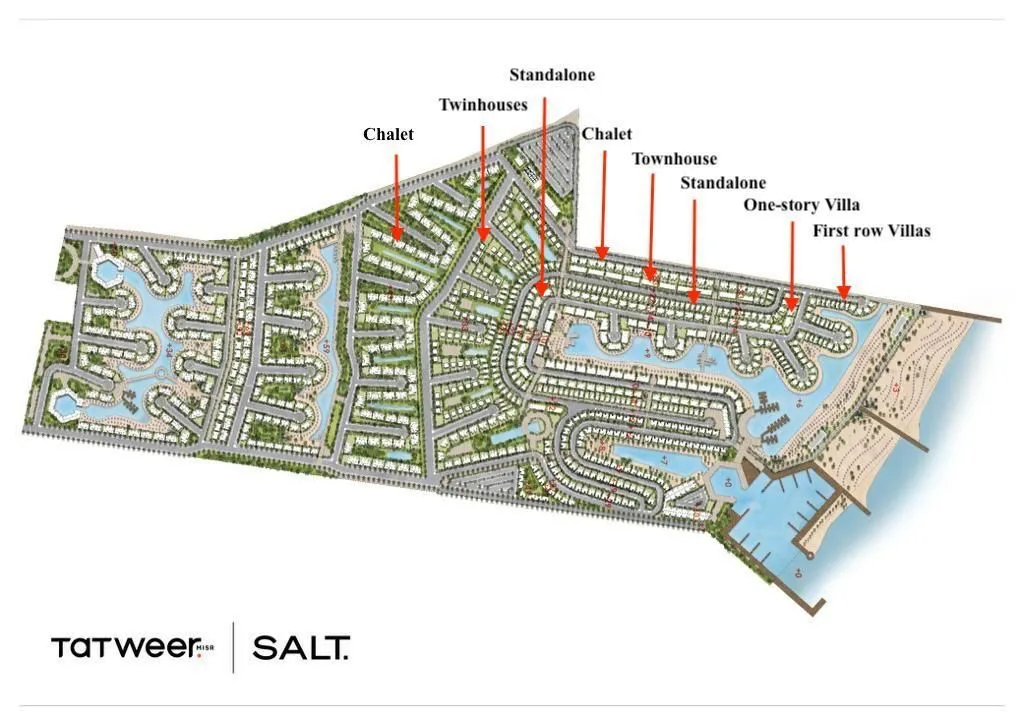 Salt North Coast by Tatweer Misr Developments
Tatweer Misr, the most important developer of the North Coast, implemented its latest coastal projects Salt North Coast in the summer of 2023 on a very special plot of land in the North Coast at kilo 185 of Alexandria Matrouh Road.
All the details about the developer company:

Tatweer Misr Developments, which was founded in 2014, is one of the fastest companies that succeeded in achieving a prominent position in the huge Egyptian real estate market, with its pioneering and prestigious values, which it sought with great success while removing all borders in front of it to provide the strongest change in the field. Unbeatable value through model projects that master all aspects of development and are renowned for inspiring change.
Also tatweer misr is proud of having a wealth of industrial and technical expertise, in addition to providing an innovative view of integrated life, to stand out strongly as a leading real estate developer in Egypt, in order to meet the growing demand for mixed-use projects that enrich the life of the Egyptian community with excellence in design, innovation and sustainability. The company's unique advantage lies in its approach a solution-oriented comprehensive that extends to the quality of construction and design, unique architecture, unique landscaping and abundance of modern amenities that aims to enhance the growth of its population and is driven by a unique vision to offer the most valuable life experiences to all citizens.
In addition to obtaining significant experience from its shareholders in order to respond strategically to customer-centric visions by forming strategic partnerships with world-renowned specialists and innovators in every field.
Board of Directors
The Board of Directors is responsible for the company's system and therefore assumes responsibility for the activities, strategy, risk management and financial performance of the development.
Company President, Chief Executive Officer, and Managing Director
Dr. Ahmed Mohamed Shalaby, is the company's president and CEO of Tatweer Misr, and a founding board member since mid-2014 Extensive experience in business planning and management, and carries out general supervision of the day-to-day management of the company, including business development Strategic planning for the company's major projects.
Vice President of the company, CEO of projects, and member of the Board of Directors
Eng. Baher Ayoub is the company's Vice President, Chief Executive Officer for Projects, and a member of the Board of Directors of Tatweer Misr Centered experience also Mr Ayoub specializes in the fields of planning and project management, as he has more than 20 years of experience in architecture, decoration, and consulting and Contracting. Before joining Tatweer Misr, Eng. Ayoub is the Head of Projects and Engineering Department at Al Fawares Holding Company In Egypt, where he managed a wide range of residential, commercial, administrative and hotel projects.
Mr. Muhammad Dawood
Chairman of the Board of Directors
Dr. Mohamed Dawood is the Chairman of the Board of Directors of Tatweer Misr. In addition to his role in the development of Egypt, prof. Dawood has more than 10 years of experience in the presidency of one of the major industrial and mechanical corporations in Egypt, which is the "Dawood Group". Among the areas of expertise of Mr. David that increases For 30 years: engineering, construction and business management, which gives the company direct benefit from ideas based on experience to build developing successful real estate projects. a. Daoud holds a Bachelor of Commerce from Cairo University.
Previous projects:
Salt North Coast
Location of Salt North Coast :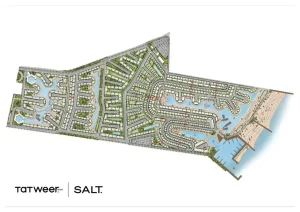 Now, because we are used to exclusiveness always and exclusively, Tatweer Misr is offering its third project in the North Coast
Salt project, located at kilometer 185 in addition to, Salt North Coast is only 20 km away From the village of De Bay, the second project of Tatweer Misr in the North Coast – Also Salt North Coast project is located 26 km from Fouka Bay North Coast The first project of Tatweer Misr in the heart of the North Coast
This project located between Sea View North coast by Jedaar Developments and Katameya Coast by Starlight developments.
Area of the resort:
Salt North Coast was built on an area of 294 acres. Also, 90% of the project overlooks the sea, with panoramic views of the sea and more privacy. All units overlook water features, and the beach frontage is about 830 square meters.
And the depth of the sea at the end of the project is 2 km. half of the project is 1650. It was also designed with a terrace system so that all units have views of the sea, lakes or swimming pools. The city contains Aston Lawn units, townhouses, twin houses, and chalets, all of which overlook the sea, as they contain terraces whose height ranges from 9 meters to 33 meters.
Full Details About : Chalet 125m for sale in Marseilia beach5 North Coast
Unit types inside Salt North Coast:
In Salt Resort by Tatweer Misr there's all types of unit the client will be search for such as:
Chalets
Townhouses
Twin Houses
Standalone Villas
Facilities and Amenities in Tatweer Misr New Project in North Coast:
There is a yacht marina in Salt North Coast.
In the Salt North Coast project, there are green spaces and landscapes distributed throughout the resort.
There is also a commercial area in Salt North Coast that includes a group of international brands and retail stores.
Swimming pools of all sizes.
The village of Salt Ras El Hikma includes an area dedicated to restaurants and cafes that provide the finest hotel services.
Lagoon on an area of 25 acres.
North Coast Salt project includes a gym and spa.
Club House
Hospital and Clinics
Special area for children (kids area).
There is also 24-hour security and guarding, equipped with the latest surveillance equipment and cameras.
Full Details : Dose North Coast
Areas and Prices in Salt :
SALT starting prices:
B Zone
2 Bedrooms Typical Floor 95 Sqm: EGP 3,750,000
2 Bedrooms Ground Floor 95 Sqm: EGP 4,650,000
3 Bedrooms Typical Floor 110 Sqm: EGP 4,275,000
3 Bedrooms Ground Floor 110 Sqm: EGP 5,100,000
K Zone:
2 Bedrooms Typical floor Chalet 105 sqm: EGP 5,400,000
2 Bedrooms Ground floor Chalet 105 sqm: EGP 6,300,000
3 Bedrooms Typical floor Chalet 115 sqm: EGP 6,000,000
3 Bedrooms Ground floor Chalet 115 sqm: EGP: 6,900,000
One-Story Signature Villa 350 sqm 6 Bedrooms (2 units only): EGP 42,000,000
Villa 180 sqm 3 Bedrooms: EGP 12,200,000
Middle Townhouse 150 sqm 3 Bedrooms : 7,750,000
Corner Townhouse 150 sqm 3 Bedrooms: 8,750,000
Read about : White sand north coast
A Zone:
Twin house 185 sqm 3 bedrooms: EGP 10,900,000
Villa 185 sqm 3 bedrooms: EGP 12,600,000
Villa 205 sqm 4 bedrooms: EGP 14,000,000
First Row units:
Villa 220 sqm 4 bedrooms: EGP 24,700,000
Villa 290 sqm: 4 Bedrooms: EGP 26,500,000
Read ABOUT : Chalet 63m for sale in White sand north coast
Payment for Salt North Coast:
10% down payment and the rest over 7 years equal installment
Or
10% & after 3 month 5% Down payment and the rest over 8 years equal installment
Full Details : Sea View North Coast
To contact Tatweer Misr sales team through WhatsApp click here or 01200027090