Overview
G Bay ElSokhna Resort l United Developments
Why you should choose united for real estate developments?
G Bay ElSokhna Resort is considered a tourist breakthrough in the most important sites with distinguished tourist demand, which has become a huge investment force and a high-end tourist product, which is the city of Ain Sukhna. Where the United Company for Development and Real Estate Investment – the company that owns the village of G bay – implemented it on a modern architectural system in a high-end style in the hands of the most skilled engineers and experts in the field of engineering, so that it becomes artistically suitable for all tastes. The company has also provided some recreational and basic services as well as public facilities in order to meet all the wishes of investors and customers.
United Real Estate Development Company is the developer of the village of Jbay, Ain Sokhna, and it is an Egyptian joint stock company that specialized in the fields of real estate and urban development, and resulted from the union of the largest 4 companies with a long field of real estate, which became a strong product competing with the rest of the other urban development companies thanks to that union. It is also owned by Engineer Muhammad Hafez al-Zabalawi, to start its career in the real estate investment world with strength and distinction. The company also works in several investment fields such as tourism, telephones and the Internet, and it is also the agent of Wei, in addition to owning a distinguished land portfolio in several places.
United Urban Development Company is distinguished by its detailed study of the real estate market to choose the best sites, construction implementation according to international standards, amazing designs and interior divisions. And services, it won the satisfaction of all its customers and won their credibility.
Previous Works of United Urban Development Company
G3 Mall New Administrative Capital.
More than 15 residential towers in Mahalla.
Projects in South and East Police Academy.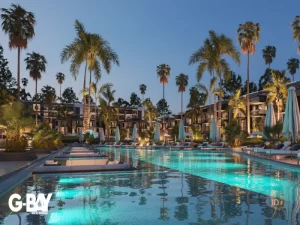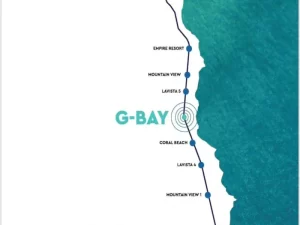 The resort of G bay Ain Sokhna is located in a very special location at kilo 164 Suez Ain Sokhna Road, on the shores of the Red Sea, enjoying a wonderful view and view directly on the sea. It is also characterized by its proximity to the most important tourist villages in that area,
Nearly to La Vista 4 Ain Sokhna and La Vista 5 Ain Sokhna and Porto Sokhna
To Know More Details contacts with sales team of G bay resort calling 01200027090 or click here via whatsup
Space Area of the resort:
United for real estate designed its project with important considerations through which it seeks to achieve luxury and privacy for the residents, which prompted it to allocate a large area of up to 27 acres, in order to allow the provision of large areas of landscaping and water bodies, with the low building area allocated for residential chalets.
Chalets only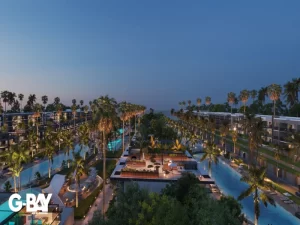 The project is characterized by a wonderful architectural design by a group of qualified engineers and specialists, and is characterized by the accuracy of the internal and external divisions of the units, and all units overlook a more than wonderful view on the Red Sea shore, wide green spaces, scenic landscapes, swimming pools and water bodies that are distributed throughout The compound.
United Company always strives to provide all services to its customers and enjoy a long vacation, so it has taken care of the interior design of the village, where the collection of the resort's chalets overlook the sea directly, as well as providing beautiful green spaces that help to relax and recreate.
The developing company took care that the design of the resort should be modern and elegant, while providing all the elements of comfort and tranquility, so it assigned the project to the largest companies in its field to ensure the best quality of the project
The village includes green spaces and a landscape that surrounds the entire resort
It also includes artificial lakes and lagoons
There are also swimming pools that vary in shape and size and are suitable for all ages.
It has an infinity pool with a health club, spa and sauna.
A Gym equipped with the latest sports
Number restaurant and café.
Kids area
Also providing an area of ​​shops and shopping centers
It contains fully secured walking, running and cycling paths away from the traffic of cars.
A private garage for parking
Security camera and guards
Starting area and space: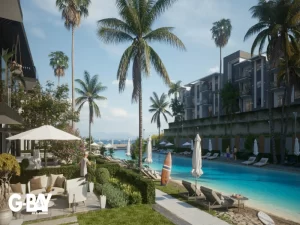 Fully finished chalets
One Bedroom
Starting area for the one bedroom chalets is 72 meter with price starts from 1,462,000
Two Bedrooms
Area starts from 90m up to 108 – starting price is 1,566,900
Three Bedrooms
The area starts from 100m to 150 meter and its starting price is: 2,326,000
Payment plan for G-bay:
10% down payment and after 2 years another 5% – the rest installments over 10 years
Down payment 5% with the rest over 9 years equal installments
Delivery date units in G bay resort :
3 years and a half from the contract
 To Know More Details contacts with sales team of G bay resort calling 01200027090 or click here via whatsup